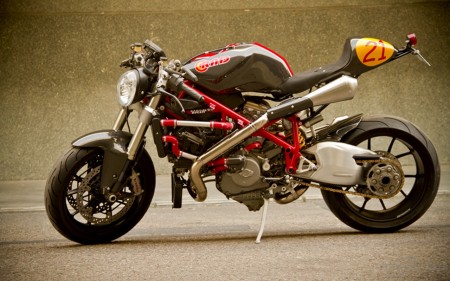 Radical Ducati, Spanish group in tuning active for the past ten years, has prepared a new two-wheel very interesting: it is the Mikaracer, new bike without compromise rear where (in the queue species and its small support frame) clearly refers to the style of the company and of its most successful creaturesas the beautiful 125 Vintage.


The base from which comes this new motorcycle special is a Ducati 1098 Superbike 2007, Mikaracer engine keeps and the frame, while the remainder of the two wheels has been details enriched with carbon (on the tank and fenders) and Lighthouse with a decidedly custom style placed between the two semi handlebars branded Rhizome.
Interventions more obvious concernairboxhowever, shorter and with a new intake of croissants DM Mechanical, and discharges him to the Sparktrombocino: for the latter the Spanish preparatory Terminal chose a low and short from the right side and one above with large connectors on the left that invokes a little style motorcycles Cafe racer.
In short, the end result is a decidedly bad look and well-made but without the charm of achievements such as the Ducati 9 ½ and the Ducati SS 750 ' 70s-style, representing my point of reference when it comes to tuning on the prestigious red Borgo Panigale.
In this case the base Radical Ducati is different but this does not mean that you could certainly build a bike aggressive less aesthetically and rather closer to a concept a bit more "classic" motorcycle.
Readmore → Moto Special: Mikaracer By Radical Ducati